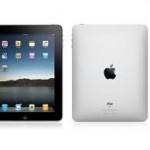 In relating all the details of my Apple vs PC series, I almost forgot to tell you all about the result of my e-reader  search.  I actually bought several, and brought them back, as well as tried a few more that I never bought.
In the end I decided on the iPad.  This device was so superior and had so many more features than anything else, it became a very easy decision.
One of the most important deciding factors was the size.  I like to read a variety of things and when it came to magazines and newspapers, the other e-readers just made the experience too unpleasant.  Maybe this would not be an issue for someone with younger eyes, but for me there was no question.
Another very important factor was the LCD screen.  I do a great deal of my reading at night and I liked the idea of being able to read without adding any extra light to the situation.  This brings up another thing that has turned out to be fantastic for me.
I tend to come up with most of my creative ideas at night; usually while sleeping.  I'll wake up at 3am with this great idea that needs to be written down or it will be gone from my mind in a matter of seconds.
In the past, I either didn't bother writing it down, or rudely woke up my wife by turning on a light so I could jot down my idea.  Now I can just reach over to the night stand, tap one button and the iPad is instantly ready for input.  Tap the "Notes" icon and up comes an electronic version of a yellow legal pad.  Tap anywhere on the pad and up comes an extremely easy to use keyboard to quickly enter the idea.
I have the iPad housed in a thin case that opens up like a book.  Since you can rotate the iPad in any direction and the screen will stay upright, I can position the cover of the case so the light does not bother my wife.  Also, the iPad screen can be dimmed down quite low.
I also chose the iPad because of it's functionality in other areas.  In this high-tech age we live in, you can really get carried away carrying around lots of gadgets.  The iPad combines so many of them that not much else is needed.
It has an amazing calendar, email, notes, calculator, and the Safari web browser.  Then there's the GPS with extremely fast response time and very detailed, high-resolution maps.  And finally there's iTunes, a headphone jack, decent sounding speaker, apps for Nook and Kindle books, it's own iBook reader, and apps for just about anything else you could want.  I have Sudoku, Scrabble, and Chess and they all look and work great.
Combine all that with 10 hours of battery life (for continuous use) and you have a really nice device.  10 hours may not seem like much compared to the days and weeks of e-ink readers, but I find that I only need to charge it about once a week.
Even though I leave it on all the time, when the screen turns off the battery life is greatly extended.  So if you're using it like a Daytimer and organizer and not using it constantly all day long, I suspect one charge could last 3 or 4 weeks.
There are some additional technical reason I chose the iPad but I'll get into those in a later post.
So now it's your turn!  If you've got an e-reader already, which one did you get?  If not, which one do YOU think is the best?  Please leave a comment and also click the "Like" button in the Facebook box in the left margin if you enjoyed the article.
Thanks for visiting!