Your MacBook laptop needs the dust cleaned out periodically to keep it in top working order.  Here's how to do it yourself and save some time and money!

Your MacBook laptop is much more sensitive to dust accumulation than a desktop.  This is because desktops have more room and larger fans to dissipate the heat.
By comparison, your MacBook laptop has very small fans with even smaller heat exchangers that look like tiny car radiators.  This is necessary because of the limited space inside of the MacBook.
With the introduction of the sleek and slim design of Apple's newest MacBooks, getting rid of extra heat became an even bigger challenge.  Apple created an engineering marvel, however, that does a great job of getting rid of most of the heat most of the time. 
Trouble comes when the machinery that performs this marvel starts getting coated with dust.  Dust acts like insulation inside the computer.  It does not allow heat to be transferred from internal components to the outside air.
It also clogs up passageways that are designed for heat to escape through.  As dust builds up, your MacBook has to work much harder to get rid of extra heat.  You will start to notice more noise as the fans run faster and longer. 
Your MacBook will also run hotter and may become quite uncomfortable to hold on your lap.  You may also notice your battery running down much faster.  Excessive fan speed drains battery power very quickly. 
Cleaning the dust out is easily performed with a couple simple tools.  All that is necessary is a screwdriver and a can of compressed air. 
Be sure your MacBook is turned off before you begin.  Flip it over so the bottom is facing up.  Remove all the screws you see on the backside of the computer. 
A number zero Phillips screw driver is the perfect size for this task.  It is available at Radio Shack and most hardware stores.  You will want to purchase one as this task should be performed on a regular basis. 
If your home is on the dusty side because of pets or a wood stove, you'll probably want to do it more frequently.  Perhaps as often as every three months.  Otherwise, every six months or longer may be appropriate. 
After you remove the back, the fans and small metal fins near them should be clear to see.  Watch the video to see what they look like.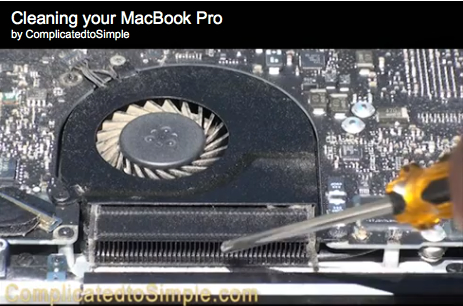 Try not to touch any electrical connections with your fingers, tools or anything else while performing this maintenance.  Technically, you should never touch electronically sensitive parts of your computer without first grounding yourself. 
Since we won't be touching any of that kind of stuff though, you should not have a problem.  Just remember though that every electronic repair carries with it some risk of damage. 
Even changing the batteries in a flashlight can cause damage to the bulb.  So if you are unwilling to accept any risk, it may be best not to perform this operation.  Ok, now that I've gotten the legal stuff out of the way, let's move on.
Again, take a look at the video to see how to do this.  You will need a can of compressed air for the next step.  I recommend you do this outside.  The clouds of dust that can come from a dirty computer can be surprisingly large.  You don't want to spend the rest of your day dusting your house to get rid of the fallout. 
Aim the straw on the can into the metal fins that are next to the fan.  Use the air in short bursts.  If you keep blowing for too long at one time, the can will become too cold causing a pressure drop.  You will then need to let it warm up again before continuing. 
Next, blow off the fan blades themselves.  Try to prevent very much spinning when you do this.  You might want to hold the blades gently in one place while cleaning.  According to a MAC tech I spoke to recently, the fans are quite delicately balanced and could be damaged by allowing them to spin too much.  Continue shooting air into all the nooks and crannies until you no longer see any clouds of dust come out.
When spraying, try to keep the can as close to upright as possible.  If it's tipped too much or turned upside down, the coolant can be expelled as liquid instead of a gas.  The coolant inside these cans is usually liquid carbon dioxide. 
It is cold enough to cause instant frostbite if it contacts your skin.  It can also cause damage to warm computer components due to the instant and extreme temperature change.  So do your best to keep just gas coming out of the can and not liquid.
When you're done, simply reattach the back of the computer in the same manner that you took it off.  Be sure to get the right size screws back in the right holes. 
When turning the screws back in, don't tighten them too much.  They should be snug but not overly tight.  If you turn them too hard, they can strip out the threads in the holes they go into.  If this happens, it will be nearly impossible for that hole to ever hold a screw again.
Another thing to be careful of is cross-threading.  It's very easy to get these tiny screws in crooked.  If you feel the screw is difficult to turn in right from the beginning, back it out and try again. 
Do this as many times as necessary to get the screws in straight.  You'll know it's straight when it's easy to turn in the whole way until tight. 
That's about it.  This is a very easy repair and one that you can do at home for almost no cost.  You'll be glad you learned how to do this.  Especially when the warranty on your MacBook runs out and you have to start paying for service. 
By the way, this is an Apple approved user repair.  That means you can do it yourself without risk of voiding your warranty.
If you enjoyed this article and video, please click "like."  You can also connect with us on Facebook through the "Find us on Facebook" box in the left margin. 
We would love to hear from you.  If you have something you'd like to share, please leave a comment.
Thanks for visiting!
---
About Robert Seth
Robert
Seth is a CPA in the Clark County, Washington area who has been serving individual and small business clients for the last 25 years. His business includes a growing number of remotely serviced customers throughout the United States. He's also a writer and technology expert. He has a passion for improving the lives of others by helping them simplify the complicated stuff in their lives.
---